March Madness SOLIDWORKS Savings!
Companies purchasing two or more qualifying licenses of SOLIDWORKS products can save significant money on March purchases. Don't miss this quarter-end promotion – your chance is gone after March 31.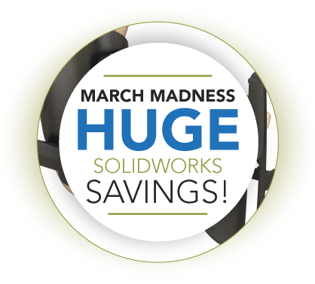 A mixture of two or more of these products qualify:
SOLIDWORKS CAD (Standard, Pro and Premium)
Simulation (Standard, Pro, Premium and Flow)
Plastics (Standard, Pro, Premium)
Composer
SW Electrical (2D, 3D) and PCB
Inspection
MBD
Visualize

Interest Free Financing for your SOLIDWORKS Software

Don't delay on purchasing a system that can make your business more productive and efficient. Contact us today to find out how you can get interest free financing on your SOLIDWORKS Solution.
Subject to credit approval
No payments due in advance
Documentation fee up to $100 required
Rates for businesses with at least 2 years tenure or more