SOLIDWORKS Electrical Schematic Standard
The Electrical Schematic Standard software is an easy-to-use, standalone schematic design tool. Featuring libraries of electrical symbols and manufacturer part information, as well as automation tools, this solution can simplify tedious tasks and significantly speed up the design process.
SOLIDWORKS Electrical Schematic Professional
The Schematic Professional solution builds upon the solid base of Schematic Standard. When you bump up to the Professional tool, you can create customized reports and float your licenses on your network to be shared among your team. SOLIDWORKS Electrical Schematic Professional also features more advanced automation to further streamline design, including Programmable Logic Controller (PLC) management tools.
SOLIDWORKS Electrical 3D
The Electrical 3D tool from SOLIDWORKS enables you to integrate electrical components into your 3D model. Your schematics and 3D models are synced in real time, bi-directionally, so all changes update automatically. Develop schematic-driven harness designs and 3D cabinet layouts.
SOLIDWORKS Electrical Professional
The Electrical Professional tool combines the functionality of Schematic Professional with Electrical 3D into a single license. Please contact Alignex to review your ECAD needs to see if this is the right solution for your business.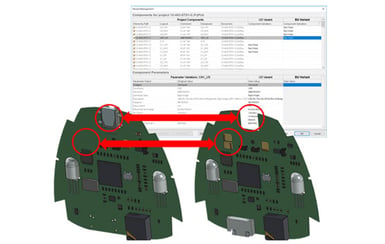 SOLIDWORKS PCB
SOLIDWORKS PCB is powered by Altium to give you a best-in-class electromechanical solution, combining the 3D expertise of SOLIDWORKS with the power and intuitive workflow of Altium. The integration provides an ideal environment for collaboration between electrical and mechanical engineering departments, keeping designs synchronized and standardized. The power of this integration ensures a streamlined design process, lower costs and fewer production delays
SOLIDWORKS PCB Connector
The SOLIDWORKS PCB Connector is an extension of Altium Designer that provides a native, programmatic connection between Altium Designer and SOLIDWORKS 3D CAD. This connector enables on-demand collaboration between electrical and mechanical design environments, keeping departments and designers on the same page throughout the design process.