See the new functionality first at the Champions Club! This all-day event includes a great keynote, customer speakers, good food, prizes to give away and a networking happy hour. Join us and you'll leave knowing how SOLIDWORKS 2017 will help you drive innovation with more easy-to-use functionality that speeds up your daily work.

Event Agenda:
9:30 Registration & Model Mania Signup
10:00 SOLIDWORKS 2017 Top Enhancements
10:30 Keynote: Jim Carroll, Futurist and Innovation Expert
11:30 Lunch
12:30 Customer Speaker
1:00 What's New in SOLIDWORKS 2017
4:15 Happy Hour + Model Mania
5:45 Model Mania Winner Announced
Keynote Speaker – Futurist Jim Carroll
Jim Carroll is acknowledged as one of the world's leading global futurists, trends and innovation experts.
Some of the largest manufacturing and industrial organizations in the world have engaged Jim to help them think about opportunities for innovation. His impressive clients range from Walt Disney to the PGA, NASA to the Swiss Innovation Forum.
What's New in SOLIDWORKS 2017
With more core power and performance, and new capabilities for emerging technologies, it's never been easier to design and create with SOLIDWORKS®, the design and development solution chosen by more than 3.1 million users worldwide. Here is a sampling of what we will be featuring during our event to help improve your workflow.
INNOVATE – New capabilities to help you incorporate emerging technologies
DESIGN – More core power and performance to get your job done faster
VALIDATE – Greater design ideas that lead to breakthrough innovations
COLLABORATE – Unlock any 3D model to work with SOLIDWORKS
BUILD & MANAGE – Data integration from concept to manufacturing to drive business needs
Model Mania Contest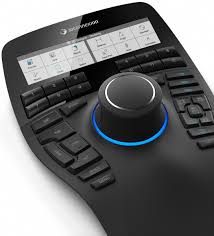 Think your modeling abilities are a cut above the rest? Join our LIVE Model Mania Contest and put your skills to the test!
Model Mania is a hands-on design challenge where you will be measured on both time and accuracy. First, you are given a 2D drawing of a part. Your goal is to create that part in SOLIDWORKS as quickly and as accurately as possible. Next, you are given a modified version of that drawing; you can consider it an engineering change if you like. Your goal now, similar to before, is to make the design change as quickly and as accurately as possible. All of the entries are judged on accuracy first, and time second. Seems simple, right? We'll be the judge of that!
First prize is a SpaceMouse Enterprise, 3Dconnexion's most advanced 3D mouse ever!
The contest is open to all current SOLIDWORKS users and will take place immediately following our launch event (during Happy Hour). Sign-ups will be taken in person only at the launch event. Seating is limited, so get to the event early and sign up for your spot!
Event Registration
Launch Week Continues...
Make sure to also check out the FREE Training happening later in the week (Oct. 5, 6, 7) back at our Alignex headquarters. Join our expert techs and our favorite food trucks at our Edina, MN facility. Go beyond new features with 11 different classes, like Extreme Part Modeling, Sketch Like a Pro and Design Validation 101.
And free lunch!